It has been a little over three weeks since my last post, and I must say I kinda missed it. But life events intervened and kept me from really being able to sit down and write about this addiction I deal with called "listening to music." Enough of me though, let's get to the tunes. Eclectic enough here, I hope.
Why?
Not a question but a band name. The first words I read about this Yoni Wolf-fronted band were "This is NOT hip-hop," on a label stuck to the band's 2005 album Elephant Eyelash, which I came across while working in college radio. What I heard when I popped in the CD was indeed not clearly definable as anything, but it was certainly tinged with a lot of elements of hip-hop music. But the interesting parts of Why? are the ones that make them hard to pin down to a genre. I appreciated Elephant Eyelash. And though I hadn't really listened to it for some time when the band's next record, 2008's Alopecia was released, I immediately scooped it up on iTunes. I think what that means is that regardless of whether you can get into Wolf's screwed-up brand of lyrical introspection, Why? leaves an impression.
I hate to quote a review on here, and I really don't like to quote pitchfork.com since I think they are unduly pretentious and harsh at times, but this graf from Jason Crock's review of Alopecia sums up nicely some of my feelings about Why?
" "Unclassifiable" is usually lazy shorthand for albums featuring both guitars and keyboards. Alopecia is a liquid in the sieve of genre: put it on headphones and it begs to bump; recite lyrics aloud and people will look at you with loathing usually reserved for religious leaflet canvassers and slam poets; try and decode the words in your head and you'll only hear the melodies behind them. As for his lyrics, it's wrong to call them stream-of-consciousness, since that implies Wolf is a poor self-editor; nothing about Alopecia is lazy. It's more like 5 a.m. journal entries cut up and turned to collage. Clearly, every line won't be pure gold, but they all add up to something. " – Jason Crock
When I heard the band was releasing Eskimo Snow, naturally I was excited. I read that Wolf called the record the least hip-hop thing the group had ever done. I was intrigued. What I've heard so far from the new release is indeed interesting, since it sounds a lot more like normal alt-rock music. Might not be the intent, but it's the effect on me so far. But what really sets Why? apart are Wolf's lyrics. They weave striking imagery, clever wordplay and the kind of
Those lyrics are still in full force on Eskimo Snow, from what I can tell. So here are a couple of songs from the band's newest record and one each from the aforementioned Elephant Eyelash and Alopecia. I really recommend giving Alopecia a good listen from start to finish a few times, it's a powerful and unique piece of work.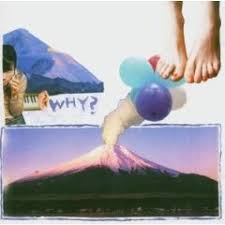 "Into The Shadows of My Embrace" and "Berkeley by Hearseback" from Eskimo Snow. "Gemini (Birthday Song)" from Elephant Eyelash. "The Hollows" from Alopecia. All here.
And now a random mish-mashing of tracks that are either in my ears or on my mind lately. Enjoy.
STRAY TRACKS (take these out of their cages and play with them before leaving, or have a heart and take them home to your collection)
"Blue Skies" By Noah And The Whale (From The First Days of Spring, out Sept. 1 on Mercury Records) – This is the first single from the upcoming album from the newly-minted foursome. Minus Laura Marling and Emmy The Great, Charlie Fink seems to have crafted a real winner. A 45-minute film scored by this album is set to be released soon as well. Good background/review here. Trailer for film here.
"Ghosts" By Laura Marling (From Alas, I Cannot Swim, out now on Virgin Records) – I can listen to this song at any time and it makes me pretty happy. Marling sounds much more mature here than the 19-year old she was when it was recorded. I wish she was still in Noah And The Whale (read the background from the link above). Note: Just listened to this song again, and I realized that Fink sings backup vocals on it! Holy crap, another reason to love it.
"Hymn 101" By Joe Pug (From Nation of Heat EP, out now on Joe Pug) – Discovered Pug thanks to Paste Magazine's digital VIP thingy, which so far has proved to be money. If you wanna see a simple video for this wonderful song, go here. Folky, bluegrass-type sound with just a dude and his guitar. Love it.
"Periodically Double Or Triple" By Yo La Tengo (From Popular Songs, out Sept. 8 on Matador Records) – This song is hella funky and a lot of fun. And these old people are fans.
"Sevenfold" By I Are Droid (From I Are Debut, out now on Razzia/Family Tree Music AB) – This is pretty straight-forward Scandinavian alt-rock, but for some reason it struck a chord with me. Hope it does with you too.
"Oh Won't You Please" By Damion Suomi (From Self  Titled, out now on Hopeless Records) – Again, the props go to Paste on this one. Part of their artist discovery series, and I discovered Suomi (sue-me) and liked him. Paste says he sounds like Adam Duritz, and I agree and would throw a little bit of Michael Stipe in there too.
"Kiss With A Fist" By Florence And The Machine (From Lungs, out now on Universal) – This song is entertaining and kinda violent. It also sounds pretty dissimilar from the rest of the debut album from this group. My friend Matt said he saw FATM's music referred to as "apocalyptic pop." After listening to this record, I kind of agree.